Image: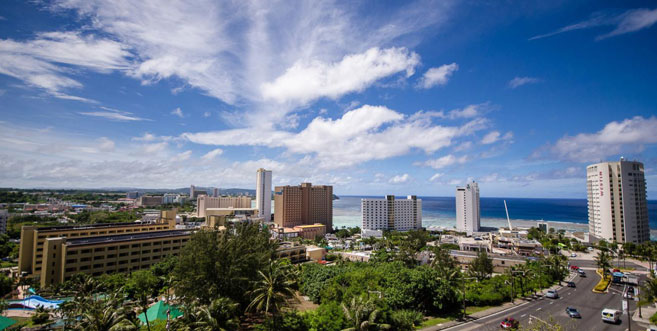 Full Description:
Heart of Guam - This is where all the action is
For more information about Tumon, click here: TOURIST DISTRICT - BEACHES, RESTAURANTS, NIGHTLIFE...
---
DEDEDO, GUAM: The island's most active residential area
Dededo is Guam's second-largest and most populous village, encompassing thirty square miles of northwestern Guam. Most of Dededo is located on Guam's limestone plateau and sits above the Northern Aquifer, an important freshwater resource for the island as it provides for about eighty percent of Guam's drinking water.
 
The main sections of this northern village lie on either side of Route 1, officially known as Marine Corps Drive, Guam's main thoroughfare. From a small pre-war farming community, it has become a major commercial and residential center.
 
Dededo is home to the Micronesia Mall, the largest shopping mall in Micronesia, located at the corner of Route 1 and Route 16 (Army Corps Drive). Along Route 16 there are several small stores and other businesses that cater to the area's Filipino residents. Also along this strip is a two-story McDonald's restaurant, the Guam Power Authority main business office, and the gated Iglesia Ni Cristo Church. Along Fatima Road, off the highway, there are several vegetable stands selling local crop products.
---
HAGATNA, GUAM: A small, history-packed island capital
Hagåtña (Hagatna), located in central Guam, is nestled between Agana Bay and the cliffs of Agana Heights. It is considered the first European city in the Pacific because of the early colonization of the Marianas, as compared to the rest of the Pacific. It was declared a city by a Spanish royal decree March 30, 1686, as the capital of the Marianas, the residence of the Spanish governor and the site of the garrison.
 
Guam's main roadway, Marine Corps Drive, runs through the village from east to west. Another major artery, Route 4, dissects the village from the shoreline to the central part of the island, running east. Hagåtña borders the village of Tamuning in the east and Asan to the west.
 
The capital of Guam, Hagåtña is the seat of the island's three branches of government: Judicial, Legislative, and Executive as well as the religious center for the Catholic Church. It is also home to numerous commercial activities including legal offices, banks, department/variety stores, insurance, technical and professional services, and restaurants.
 
The cultural resources of the village are significant being home to a large number of Guam's historical sites. The Hagåtña boat basin (formally known as the Gregorio D. Perez Marina), the Guam Public Library (formally the Nieves M. Flores Memorial Library) and numerous public facilities are also located within the village.
 
As opposed to the island's historical past, Hagåtña is currently one of the least populated villages on the island. Residential homes primarily are located below the cliff at the western portion of the village.